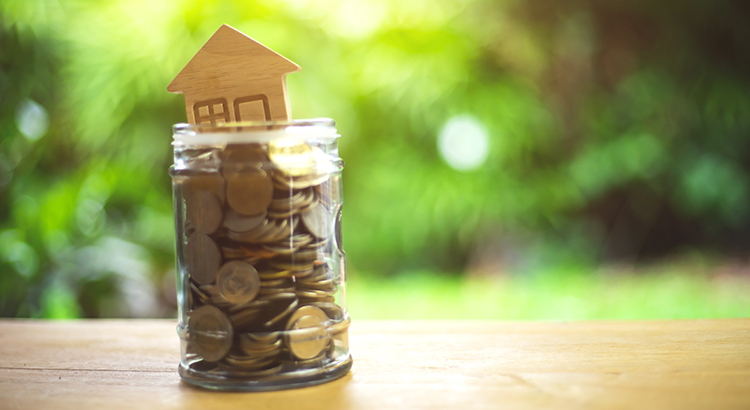 As we enter the summer months and work through the challenges associated with the current health crisis, many are wondering what impact the economic slowdown will have on home prices. Looking at the big picture, supply and demand will give us the clearest idea of what's to come.
Making our way through the month of June and entering the second half of the year, we face an undersupply of homes on the market. Keep in mind, this undersupply is going to vary by location and by price point. According to the National Association of Realtors (NAR), across the country, we currently have a 4.1 months supply of homes on the market. Historically, 6 months of supply is considered a balanced market. Anything over 6 months is a buyer's market, meaning prices will depreciate. Anything below 6 months is a seller's market, where prices appreciate. The graph below shows inventory across the country since 2010 in months supply of homes for sale.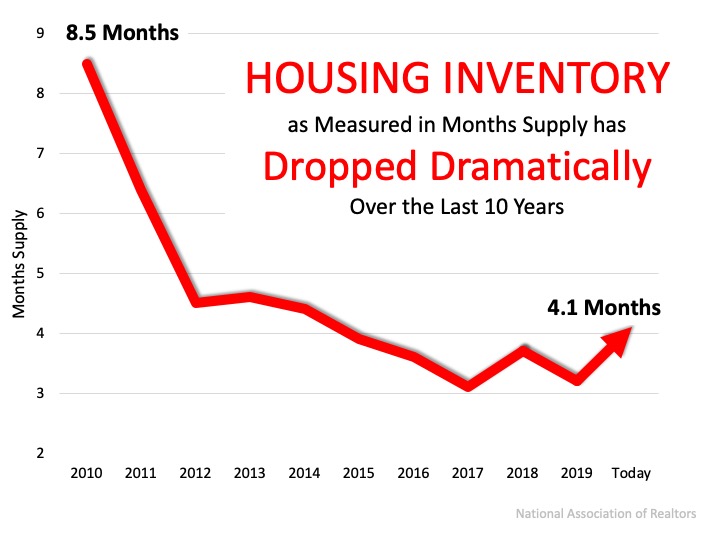 Robert Dietz, Chief Economist for the National Home Builders Association (NAHB) says:
"As the economy begins a recovery later in 2020, we expect housing to play a leading role. Housing enters this recession underbuilt, not overbuilt. Estimates vary, but based on demographics and current vacancy rates, the U.S. may have a housing deficit of up to one million units."
Given the undersupply of homes on the market today, there is upward pressure on prices. Looking at simple economics, when there is less of an item for sale and the demand is high, consumers are willing to pay more for that item. The undersupply is also prompting bidding wars, which can drive price points higher in the home sale process. According to a recent MarketWatch article:
 "As buyers return to the market as the country rebounds from the pandemic, a limited inventory of homes for sale could fuel bidding wars and push prices higher."
In addition, experts forecasting home prices have updated their projections given the impact of the pandemic. The major institutions expect home prices to appreciate through 2022. The chart below, updated as of earlier this week, notes these forecasts. As the year progresses, we may see these projections revised in a continued upward trend, given the lack of homes on the market. This could drive home prices even higher.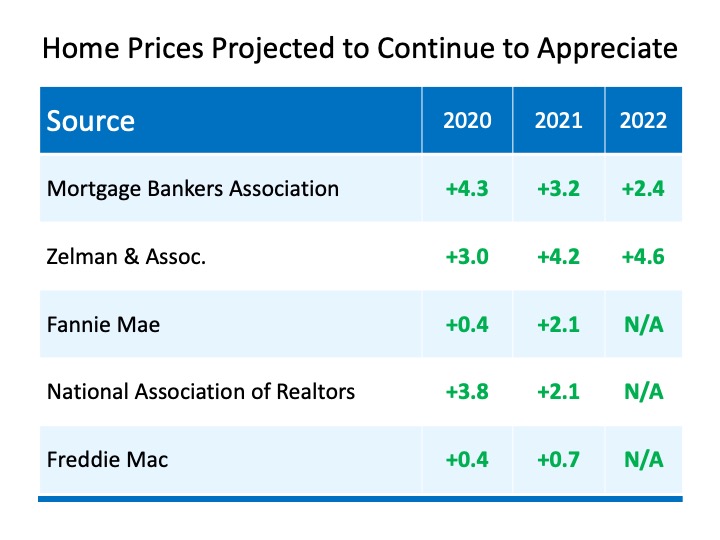 Bottom Line
Many may think home prices will depreciate due to the economic slowdown from the coronavirus (Covid-10), but experts disagree. As we approach the second half of this year, we may actually see home prices rise even higher given the lack of homes for sale.
Thinking of buying or selling a home?  Let's talk-
Kim and Katie
Real Estate Brokers – Naperville, IL
Believe it or not, there are lots of things you can do to prep your house for a sale without even going to the store.
Your real estate plans don't have to be completely sidelined while we've hit the pause button on other parts of daily life.
Tackling small projects from cleaning the corners you may normally skip to tidying up your yard are easy and necessary wins if you're thinking of listing your house and making a move.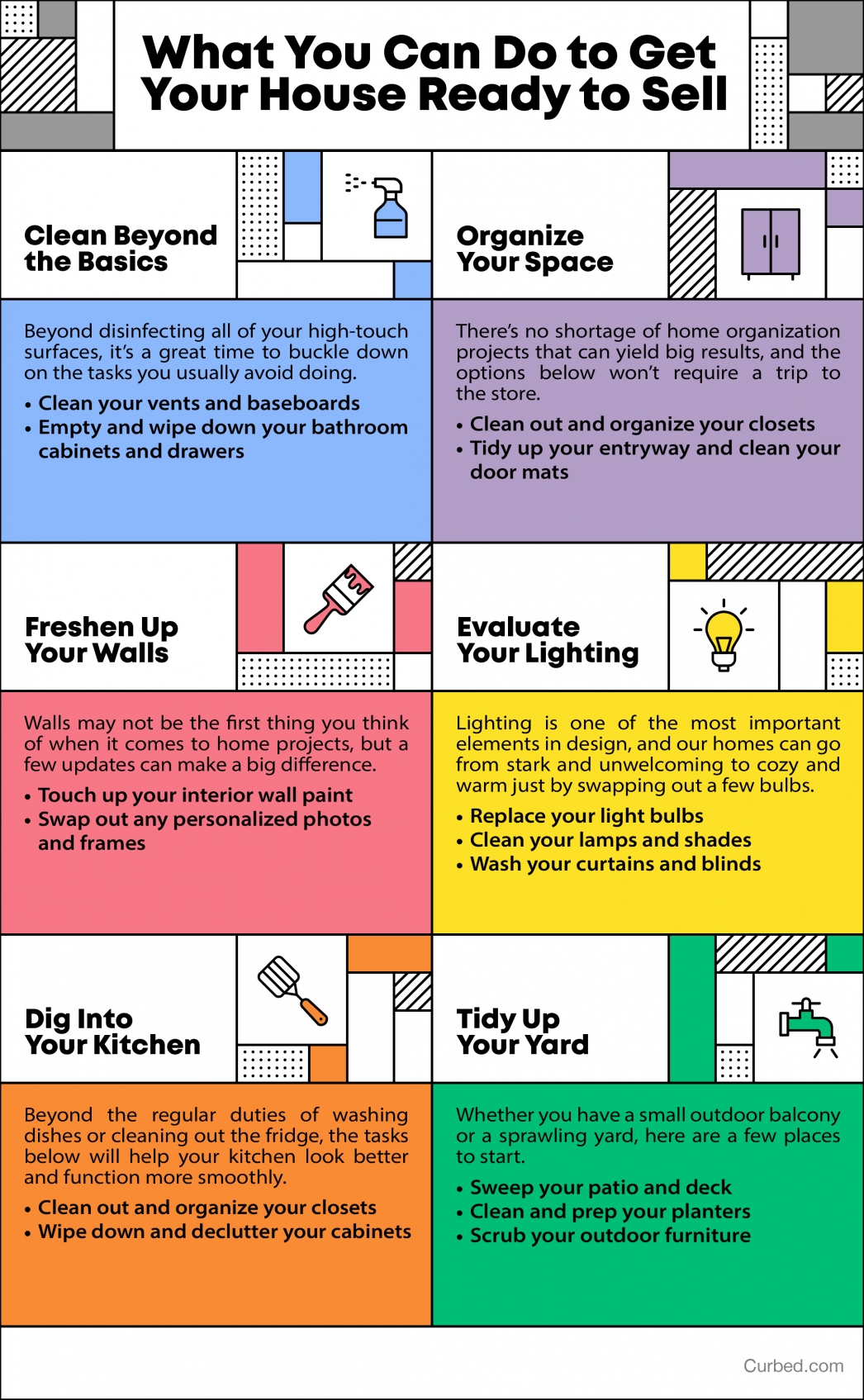 Call or e-mail us for more ideas and next steps that you can take to be ready to sell your home and follow your dreams.
kimandkatie@johngreenerealtor.com
630-732-1299 or 773-750-9535
Naperville Real Estate Brokers
Posted on April 13, 2020 at 4:55 pm
Kim Lawler-Marino and Katie Minott
Category:
Selling
Tagged

buy a home, home projects l, naperville realtor, paint your house, prepare your home to sell, real estate agent, real estate broker, realtor, sell a home, sell your home, shelter in place, zillow

Today's everyday reality is pretty different than it looked just a few weeks ago. We're learning how to do a lot of things in new ways, from how we work remotely to how we engage with our friends and neighbors. Almost everything right now is shifting to a virtual format. One of the big changes we're adapting to is the revisions to the common real estate transaction, which all vary by state and locality. Technology, however, is making it possible for many of us to continue on the quest for homeownership, an essential need for all.
Here's a look at some of the elements of the process that are changing (at least in the near-term), due to stay-at-home orders and social distancing, and what you may need to know about each one if you're thinking of buying or selling a home sooner rather than later.
1. Virtual Consultations – Instead of heading into an office, you can meet with real estate and lending professionals through video chat. Whether it's your first initial needs analysis as a buyer or your listing appointment as a seller, you can still get the process started remotely and create a plan together. Your trusted adviser is still on your side.
2. Home Searches & Virtual Showings – According to the National Association of Realtors (NAR), the Internet is one of the three most popular information sources buyers use when searching for homes. Your real estate agent can send you listing information and help you request a virtual showing when you're ready to start looking. This means you can virtually walk through the homes on your wish list while keeping your family safe. As a seller, you can still have virtual open houses and virtual tours too, so as not to miss those buyers looking to find a home right now.
3. Document Signing – Although this is another area that varies by state, today more portions of the transaction are being done digitally. In many areas, your agent or loan officer can set up an account where you can upload all of the required documents and sign electronically right from your computer.
4. Sending Money – Whether you need to pay for an appraisal or submit closing costs, there are options available. Depending on the transaction and local regulations, you may be able to pay by credit card, and most banks will also allow you to wire funds from your account. Sometimes you can send a check by mail, and in some states, a mobile escrow agent will pick up a check from your home.
5. Closing Process – Again, depending on your area, a mobile notary may be able to bring the required documents to your home before the closing. If your state requires an attorney to be present, check with your legal counsel to see what options are available. Also, depending on the title company, some are allowing drive-thru closings, which is similar to doing a transaction at a bank window.
Although these virtual processes are starting to become more widely accepted, it does not mean that this is the way things are going to get done from now on. Under the current circumstances, however, technology is making it possible to continue much of the real estate transaction today.
Bottom Line
If you need to move today, technology can help make it happen; there are options available. Let's touch base today to discuss your situation and our local regulations, so you don't have to put your real estate plans on hold.